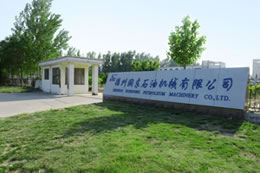 Dezhou Rundong Petroleum Machinery Co., Ltd. is a Chinese manufacturer specializing in the development, production and marketing of an extensive line of petroleum machinery. Our products are not only popular for use in oilfields in China both on-shore and off-shore, but they are also exported to many other countries and regions of the world, such as America, Russia, Kazakhstan, Egypt, Libya, and Ecuador.
Rundong is the first-class supplier of CNPC, CNOOC and SINOPEC, the largest oil-gas field development enterprises in China.
Advantages
1. Founded in 1970, our experience in producing quality petroleum machinery is extensive. We have developed a complete line of petroleum drilling equipment, tools and accessories, including fishing tool, cementing tool, mud pump and mud pump parts like bimetal liner, ceramic liner, piston rod, and more. Our products are made in accordance with the China National Petroleum Corporation (CNPC) SY/T6083-94 and American Petroleum Institute (API) 7K standards, to accommodate the increasing need for reliable petroleum machinery in oilfields around the world.
2. Our senior engineers and professional researchers are highly experienced in developing more reliable products, resulting in the life of our ceramic liner, piston, valve assembly, being extended by 180%.
3. We have a wide variety of advanced hot and cold working equipment which improves our efficiency, such as the T6920D CNC boring milling machine from Qiqihar Machine Tool Works and XH2400 gantry machining center from Hanland Machine Tool Group.
Services
Packaging
We package and ship products according to applicable industry standards, and also what our customers request. This way we ensure customers are satisfied with the packaging materials and containers used in shipping their orders.
Pre-sales Services
1. We provide detailed information on product specifications and features to customers to assist them in choosing the best product for their application needs.
2. Consulting services are customized according to your needs.
3. We offer samples, for just the cost of shipping.
Sales Services
Our attentive staff is ready to show you how to use our products and to help with solutions to any customer needs.
Post-sale Services
1. Installation and debugging services are available
2. We provide a technical guide of the use of our product with your purchase.
3. Product and parts maintenance
4. In addition to responding to customer inquiries promptly, we collect feedback from customers to continue to improve the quality of our products and service.
Thank you for visiting our website. If you require additional information, please contact us via phone or email. The staff at Rundong sincerely looks forward to working with you.